100 ml Eau De Parfum
19-69
Regular price
$200.00
Sale
In Stock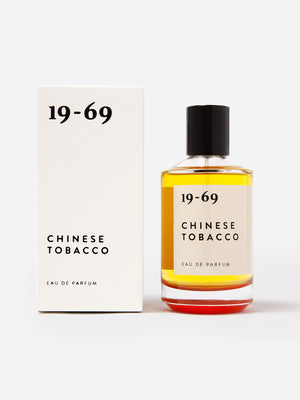 Swedish artist and product developer Johan Bergelin launched 19-69 in 2017. Inspired by gender-fluid '80s fashion, Bergelin worked with artisans from France, Italy, and Scandinavia to develop signature scents with the mission of uniting people. 19-69 now offers 9 gender-neutral fragrances, including: Purple Haze, Capri, Chinese Tobacco, Kasbah, Rainbow Bar, Chronic, Villa Nellcôte, Female Christ, and L´air Barbès.
All 19-69 fragrances are suitable for any gender.

Purple Haze: Deep, powerful, and quirky, Purple Haze features notes of cannabis accord, violet leaf, and patchouli
Capri: Fresh but edgy, light but comforting, Capri features notes of sweet and bitter Orange, Ylang Ylang, and White Musk.
Chinese Tobacco: Spicy and woody, Chinese Tobacco features notes of Tobacco, Coriander, and Oud.
Kasbah: Woody with soft spices, Kasbah features notes of white Honey, Amber, and Sandalwood.
Rainbow Bar: Warm and glowing with light elements, Rainbow Bar features notes of Bergamot, Bourbon, and Vetiver.
Chronic: Leafy, vibrant, and green, Chronic features notes of Cannabis Accord and Moss.
Villa Nellcôte: Aromatic, refreshing, and floral, Villa Nellcôte features notes of Grapefruit, Magnolia flower, and Patchouli.
Female Christ: Earthy but fresh, Female Christ features notes of Eucalyptus, Rhubarb, and Vanilla. 
L´air Barbès: Cold and fresh, L´air Barbès features notes of fresh Lemon, Concrete, and Ink.
La Habana: Smokey and alluring, La Habana features notes of Saffron, Incense Resinoid, and Laotian oud.
Miami Blue: Fresh and aquatic, Miami Blue features notes of Lemon, Ginger, and Cocaine Accord.  
19-69 Female Christ is Amazing!
I'm still waiting on a new bottle to be scent (the first was lost in the mail, RIP), but Female Christ is one of the best colognes I've ever worn. It's unique, not too overpowering and lasts a long time. I can't tell you how many people in the last year have complimented the scent.
Can't wait for the replacement to get here as I'm just about out of my old bottle!