Linhart Whitening Kit
LINHART
Regular price
$24.00
Sale
Make a selection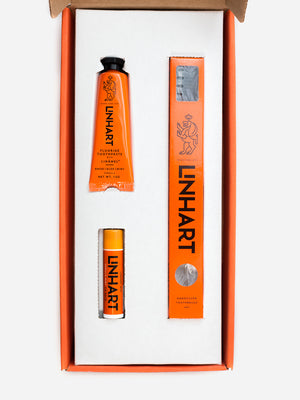 The Linhart Toothpaste set provides you with everything you need to keep your pearly whites extra white and healthy. Developed and made by a New York based dentist family, the Linhart family have been making oral care products for over a decade. 
This set includes:
The Linhart Nano-Silver toothbrush 
ANTIBACTERIAL NANO-SILVER infused bristles kill 99% of harmful bacteria, preventing the microbial proliferation that plagues ordinary toothbrushes. ULTRA-SOFT DUAL LENGTH BRISTLES are gentle on the teeth and gums. The short, tactile bristles clean between teeth, while the long, fine bristles remove plaque in hard to reach areas deep under the gum line.
Linhart Fluoride Toothpaste with Linamel
Active Ingredients: Sodium Fluoride 0.25%
Inactive Ingredients: sorbitol, water (purified), hydrated silica, xylitol, glycerin, sodium lauryl sulfate, flavor, titanium dioxide, cellulose gum, disodium phosphate, Aloe Barbadensis leaf juice, allantoin, sodium saccharin, theobromine, bisabolol
Linhart Lip balm
Made from beeswax to extra virgin olive oil to rosemary extract, LINHART lip balm is formulated from only the highest quality, all natural ingredients. LINHART lip balm has a Sun Protection Factor (SPF) of 15 to keep your lips safe no matter what the circumstance. It is FDA approved and tested; the SPF ingredients that are used absorb both UVA and UVB rays for year-round protection from the sun, wind, and cold.