Poncho
Poler
Regular price
$100.00
Sale
In Stock
Buy 3+ Get 20% Off with HOLIDAY20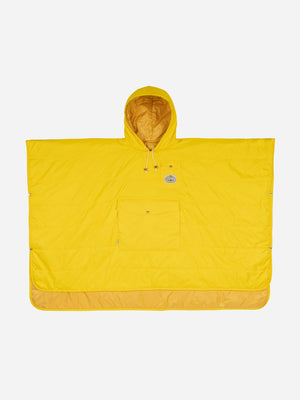 Stay cozy on the move, on the ground, and on the couch. It´s a poncho and a blanket all in one package. Simply snap or unsnap the sides to change the mode of enjoyment. It has a kangaroo pocket perfect for keeping your hands warm and two additional snap closure pockets for securing your precious cargo. Great for use at home, around the fire, at games, at festivals, and of course at camp.
Features:
- Recycled Thermastuff Synthetic Insulation
- Fully Reversible
- Soft Ripstop Nylon Exterior
- Handwarmer & Accessory Pockets
Specifications:
- 18´´ x 8´´ Stuffsack Included
- Weighs 2-2.5 lbs.
Care:
Our cozy collection including napsacks, shaggy napsacks, zonkers, ponchos, and campforters share the same care instructions. To freshen them up without causing any damage, fading, or clumping please follow these tips:
- We recommend hand washing in cold water with a light detergent.
- Rinse well, being sure to remove all detergent and suds.
- Lay flat to let air dry, but not in direct sunlight.
- For a final fluff, you can throw it in the dryer on air/lowest heat for 20 minutes. Use dryer balls or a tennis balls to help prevent clumping.
- Enjoy your clean Napsack.